10 January 08
Ministry for Kosovo is a real ministry in the Serbian government. I didn't make it up! Their job is to promote Kosovo being in Serbia, and as a part of the campaign, they printed some posters. One of them is: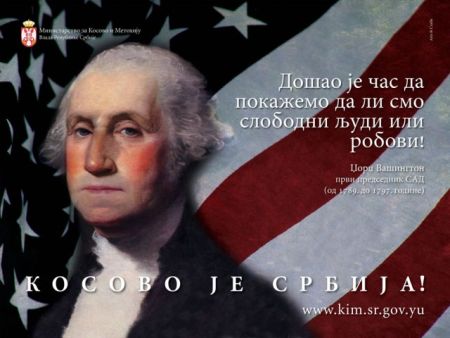 It is time to show whether we are freemen or slaves!
George Washington, the first president of the USA
KOSOVO IS SERBIA
Aside from the hypocrisy common for both George Washington (who was a slave-owner) and the Serbian government, this poster, that is all over Belgrade, depicts a part of the speech that George Washington gave before the Battle of Long Island — when Americans started their struggle for self-determination and secession.
Good news is that I am not the only person who noticed how fucked those posters are. Good people from the Internet decided to have fun with the idea. This is what they came up with:
---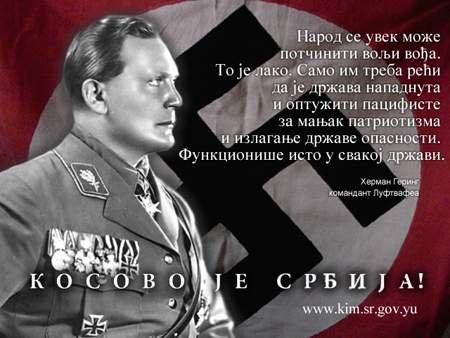 People can always be brought to the bidding of the leaders. That is easy. All you have to do is to tell them they are being attacked, and denounce the pacifists for lack of patriotism and exposing the country to danger. It works the same in any country.
Hermann Göring, commander of the Luftwaffe
KOSOVO IS SERBIA

---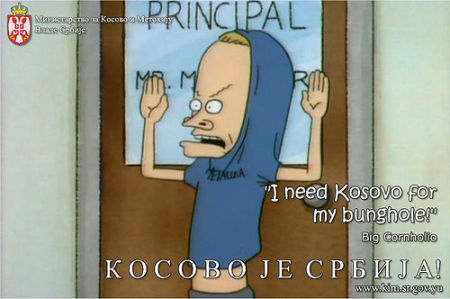 I need Kosovo for my bunghole!
Big Cornholio
KOSOVO IS SERBIA

---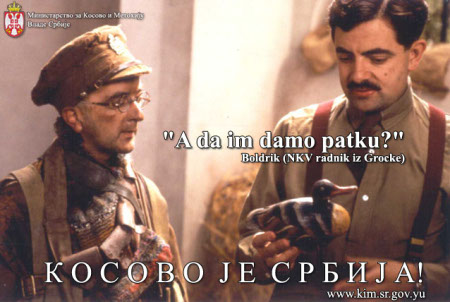 What about we give them a duck instead?
Baldrick (unqualified worker)
KOSOVO IS SERBIA

---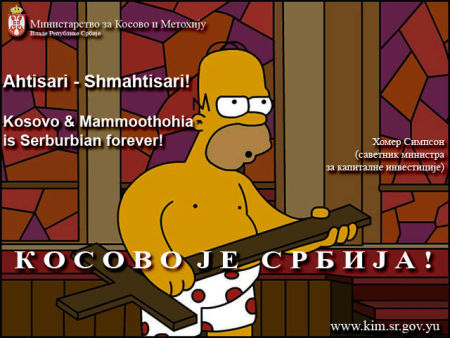 Ahtisari – Shmatisari! Kosovo&Mammoothohia is Serburbian forever!
Homer Simpson (advisor to the Minister for Capital Investements)
KOSOVO IS SERBIA